Group Members
Olivera Marković, associate researcher, University of Belgrade - Institute of Chemistry, Technology and Metallurgy
Dragana Stojkov, graduate researcher, PhD student
Miljana Todorov, PhD student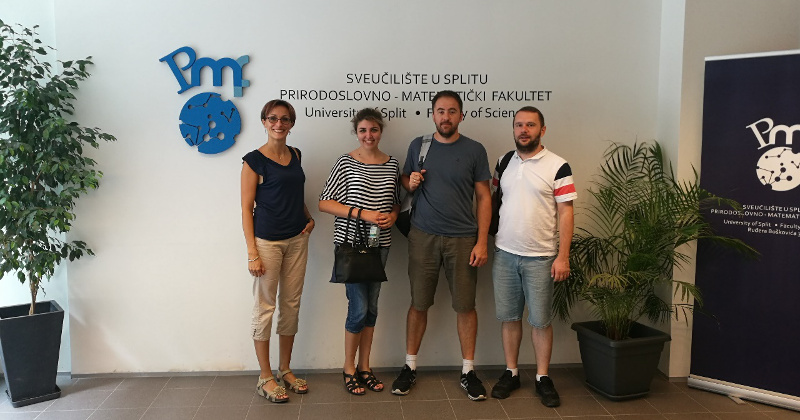 Research Area
1. Physicochemical profiling and study of various types of ionic equilibria
Physicochemical profiling and study of various types of ionic equilibria of biologically active compounds are crucial in an early phase of the drug research and in prediction of pharmacokinetic and pharmacodynamic compound properties. This research includes studies of ionization, solubility, lipophilicity, permeability of the drug candidates, as well as protein-compound interactions and determination of various kinds of equilibrium constants. With the estimation that about 1/3 of the molecules rejected during the preclinical drug development are rejected due to ADME (absorption, distribution, metabolism, excretion) problems closely related to compound physico-chemical properties, the great importance of this type of research was recognized.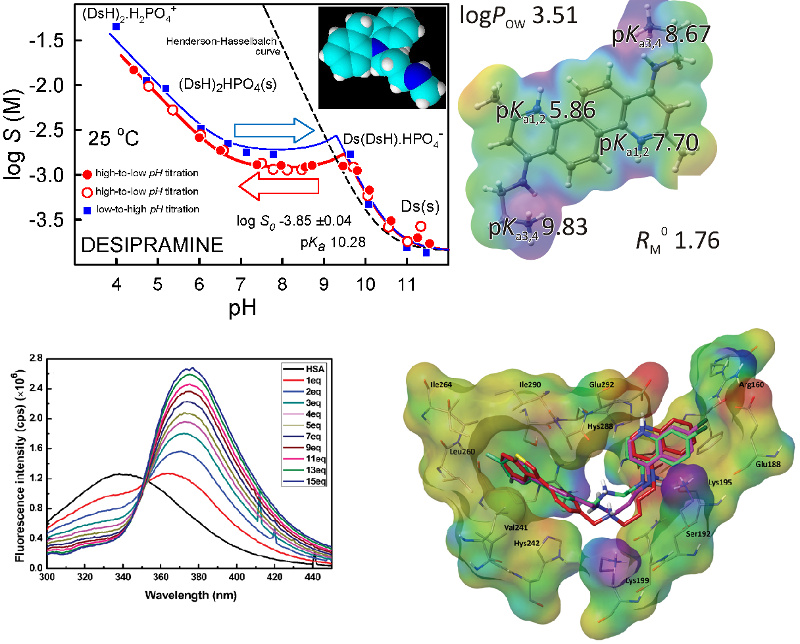 2. Molecularly imprinted polymers: preparation, characterization, and application
Functional materials like molecularly imprinted polymers (MIPs) can be applied in various areas of chemistry and chemical technology. MIPs can be used as a solid-phase extraction sorbents, chromatographic stationary phase, in sensors, as artificial enzymes, microreactors, for controlled drug release and delivery. Group research is oriented towards preparation of MIPs imprinted by 'difficult' molecules as steroids, also towards chiral MIPs, polymers that can be used as sorbents in solid-phase extraction or chromatography.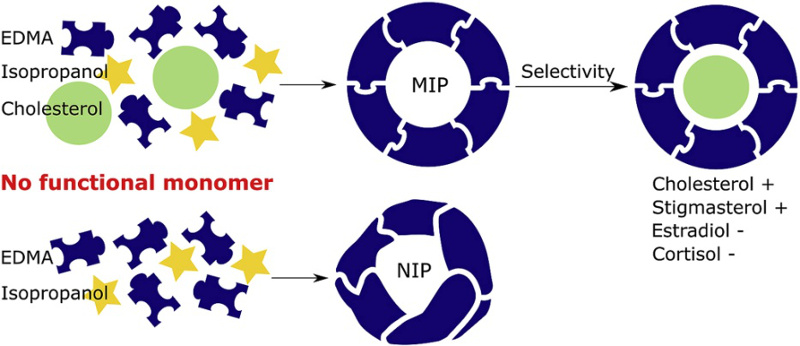 3. Application of chemoinformatics in medicinal chemistry, food chemistry, and materials chemistry
Quantum-chemical calculations are applied to predict different physicochemical properties of bioactive compounds and functional materials. Studying protein-ligand interactions, mechanisms of action of natural and synthetic compounds and their ADMET properties can be elucidated. This is furthter utilized in the design of novel structures with the improved drug-likeness.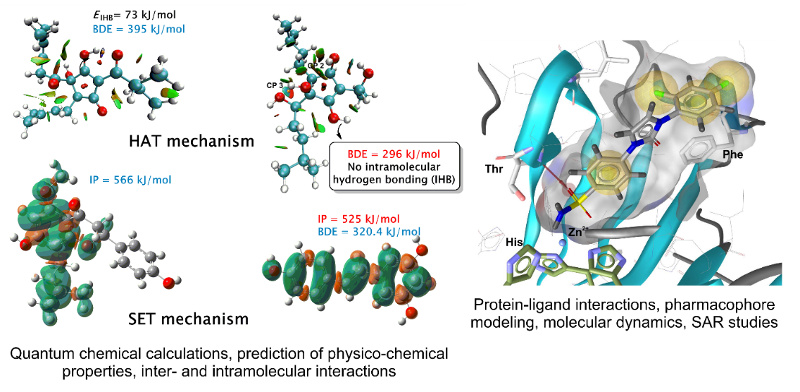 The Equipment Used in Research
Automatic titrator (pH-burette)
UV/Vis spectrophotometer
Spectrofluorimeter
HPLC with UV/Vis, RI and FL detection
NMR
FTIR
Publications
M. P. Pešić, M. D. Todorov, G. Becskereky, G. Horvai, T. Ž. Verbić, B. Toth, Talanta 217 (2020) 121075.
O. S. Marković, M. P. Pešić, A. V. Shah, A. T. M. Serajuddin, T. Ž. Verbić, A. Avdeef, Eur. J. Pharm. Sci. 133 (2019) 264-274.
O. S. Marković, I. N. Cvijetić, M. V. Zlatović, I. M. Opsenica, J. M. Konstantinović, N. V. Terzić Jovanović, B. A. Šolaja, T. Ž. Verbić, Spectrochim. Acta A 192 (2018) 128-139.
I. N. Cvijetić, T. Ž. Verbić, P. Ernesto de Resende, P. Stapleton, S. Gibbons, I. O. Juranić, B. J. Drakulić, M. Zloh, Eur. J. Med. Chem. 143 (2018) 1474-1488.
A. Avdeef, E. Fuguet, A. Llinàs, C. Ràfols, E. Bosch, G. Völgyi, T. Verbić, E. Boldyreva, K. Takács-Novák, Equilibrium solubility measurement of ionizable drugs - consensus recommendations for improving data quality, White paper, ADMET&DMPK 4 (2016) 112-178.
Partners
in-ADME Research, New York, USA (Alex Avdeef)
St. John's University, New York, USA (Abu T.M. Serajuddin)
Hungarian Academy of Science, Budapest, Hungary (George Horvai)
Budapest University of Technology and Economics, Budapest, Hungary (Viola Horvath, Blanka Toth)
University College London, UK (Klara Valko, Mire Zloh)
University of Barcelona, Spain (Clara Rafols, Elisabet Fuguet, Elisabet Bosch, Marti Roses, Susana Amezqueta)
Srpska akademija nauka i umetnosti (Bogdan A. Šolaja)
Center for Excellence in Brain Science and Intelligence Technology, Shanghai, China (Goran Angelovski)
University of Coruna, Spain (Carlos-Platas Iglesias)
Indian Institute of Technology Bhubaneswar, Odisha, India (Akhilesh Kumar Singh)
National Institute of Chemistry, Ljubljana, Slovenia (Andrej Perdih)
University of Milano, Italy (Alessandro Pedreti)
Institut za nuklearne nauke "Vinča" - Nacionalni institut Republike Srbije, Univerzitet u Beogradu (Svetlana Jovanović)
Univerzitet u Beogradu - Farmacetuski fakultet (Gordana Popović, Slavica Ražić)
Univerzitet u Beogradu - Tehnološko-metalurški fakultet (Aleksandar Marinković, Aleksandra Božić)
Univerzitet u Beogradu - Šumarski fakultet (Ivana Stojiljković)
Univerzitet u Kragujevcu - Medicinski fakultet (Ratomir Jelić), Prirodno-matematički fakultet (Andrija Ćirić)
Univerzitet u Novom Sadu - Prirodno-matematički fakultet, Novi Sad (Gorana S. Mrđan, Borko M. Matijević)
Institut za sudsku medicinu, Beograd (Vera Lukić)
Univerzitet u Kosovskoj Mitrovici - Prirodno-matematički fakultet (Ružica Micić)
Istraživačka stanica Petnica, Petnica, Valjevo
Biotehnika IVD Ratina, Kraljevo
Ellielab LLC, Wisconsin, USA (Miladin Kostović)
Projects
Synthesis and application of new chemotherapeutics based on natural products and metal complexes, Serbian Academy of Science and Arts, project leader: Bogdan Šolaja, 2019-2022.
Preparation and characterization of selective molecularly imprinted polymer sorbents, bilateral SASA and HAS project, project leaders: Tatjana Verbić (Serbian side) and Viola Horvath (Hungarian side), 2016-2018.
Rational Design and Synthesis of Bioactive and Coordination Compounds and Functional Materials Relevant for (bio)Nanotechnology (172035), Ministry of Education, Science and Technological Development of the Republic of Serbia, project leaders: Ivan Juranić, Aleksandar Nikolić, 2011-2019.
The Synthesis of Aminoquinoline-based Antimalarials and Botulinum Neurotoxin A Inhibitors (172008), Ministry of Education, Science and Technological Development of the Republic of Serbia, project leaders: Bogdan Šolaja, Igor Opsenica, 2011-2019.